Welcome To
Laxmi Industries Corporation
We are manufacturing of electric induction three-phase & single phase motor.
We have a well-established factory with modern machine/tools, measuring instruments and testing facilities to manufacture our products in accordance with national and international standards.
Featured Product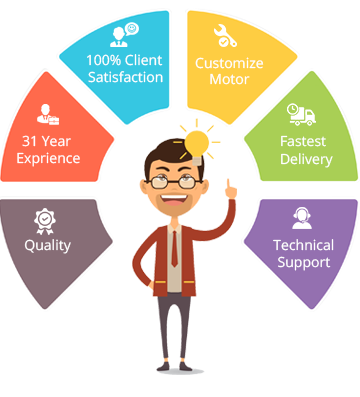 Why Choose Laxmi Industries Corporation ?
Generalized Products tested as per IE2 & IE3 level on IS-12615-2011 standard. (Approved By ERDA).
Company utilized same quality raw materials during Manufacture for maintain quality products.
Using 100% CRNGO imported silicon stamping.
Understand application of clients and their demands.
Wide range & multiple models for selection to suite customer needs.
The Fastest Delivery of Customized Motors.
Modern manufacturing setup with automatic machine and dynamic manpower.
Best for Power Saving, Quality and Service.
R & D set up for new product's development.
Using top of the line bearing system (SKF, KBC, UBL, NRB).
Use of Dual coated or ISO standard enameled copper wire (like RR Cable, Apple, BIC)
All Motors suitable for 50 C ambient temp.

Client
Testimonials
"we are working with L.I.C. Brand motors since last three-years in looms machines and Rapier Machine (Brake Type) with excellent performance. We are satisfied with their quality products and services. They have excellent range of products and providing excellent solutions as per our requirement. Our company purchasing (DC Magnetic Brake motors) specially for Rapier machine. They have specialty for brake fitting. We are really impressed their works.
Vijay Modi (Director)
( Dynamic Autolooms Pvt. Ltd. )
"We are making High speed T.F.O. and twisting machine. We believed in quality products and L.I.C. Brand supplying us motors and excellent services as per our requirements.
Dhiru Bhai
( Aakash Engineers )
"From last 20 years, we are manufacturing looms machine and Rapier Machine different quality as per customer requirement. L.I.C. Brand is one of the leading brand for Textile machinery and other industrial machinery products. They are making motors 3 Bearing type and power saving quality. Our clients always asking for L.I.C. Brand motors, and We really appreciated that they are making quality products and our clients also satisfied with their motors.
Ashish Bhai
( Premier Looms )
"We are making High speed T.F.O. machine. We are dealing with clients as per their requirement (like T.F.O. Spindles 300, 396, 526,above 600 etc.). L.I.C Brand Motors settled quality products and per machine load. And our client also directly asking for L.I.C. Brand products. They have excellent performance and services for ever.
Jayram Bhai
( Eagle Engineering )
"We are making all type of Gas fired & oil fired oven, biscuit and bread baking oven. When we started, we search so many companies for oven motors but not got proper result. We approached L.I.C. Brand Motors, and they fulfilled our requirements. L.I.C. Brand Motors specially design motor as per our machine durability.
Pappu Bhai
( Shiptain Enterprise )
"We are thankful to L.I.C. Brand Motors. We have purchased 500 machines from Paramount Looms machine before 2 years, and we settled L.I.C. Brand looms motors with these machines. Still, we have not any kind of maintenance in motors. We are producing a thousand of meters gray with excellent quality. L.I.C. Brand Motors specially in looms motors, we are really satisfied their performance and power saving quality. Thank you very much L.I.C. Brand.
Jalwant Bhai Hirpara
( J.T. Group )
"We, The Vaghani Group specially working in Diamond Industry last for 20 years. We have involved in Textile Industry since last 5 years. From the beginning, we are using L.I.C. Brand Motors, and we have installed total 2500 Nos of Looms Machine as of now. We have not any kind of query. Even our masters also said that this is excellent thousands of meter fabrics produced, and we have also benefited on meter. Thanks for being part of our organization.
Hareshbhai Vaghani
( Vaghani Group )
"Since last 5 years, we are using Kiran company motors. We have 1500 Nos of looms machine, 250 Nos of T.F.O machines are working in my factory. In last year my wireman suggested to install L.I.C. Brand looms motors. We have installed 250 Nos of looms motors. We have good experience that low maintenance, quality of work and face low power consumption against other company motors.
Ashok Bhai
( Santokba Textile )
"Hi, My self Alpesh. We have 500 Nos of Looms machines with dobby (18 pawdi). We are using L.I.C. Brand 90 Frame size looms motors.we really satisfied with L.I.C. Brand looms motors. They are providing good services. Thanks for being part of our industry.
Alpesh Bhai
( Purshottam Textile )
"L.I.C. Brand providing good quality of products. We are working since last 10 year. I am really happy with their performance and services.
Hari Bhai
( Famous Textile )
"In our company, whole project execute with L.I.C. Brand motors. 150 Looms, 20 T.F.O machine, warnings, winding machine, bobbin machine etc. Still, we have no face any problem with their products. Company engineers also visit at our factory for inspection. They are providing guidance about, how to works and maintain motors.
Pintu Bhai
( Om Martangi Tex )